"Catherine, I'm in love with you," he said. "I will do anything to be with you."
Butterflies crept in her stomach because she knew she couldn't have two men in her life. One was there purposefully by law. The other there purposefully by choice. There were kids involved. Hearts could be broken. Someone could get hurt physically. Someone would get scarred emotionally. Someone would be destroyed mentally.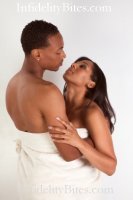 Catherine had a serious choice to make. Should she listen to her heart or her mind? She hated being confused because she knew confusion was the devil's playground. She cared for her husband and loved the two daughters he'd blessed her with. But something about this muscular, chocolate, debonair, "Idris Elba"-look-a-like kept her from saying no.
Lord help me to resist temptation, she thought.
Her knees grew week, She grabbed his arm gently and slowly sat on the last step of the staircase and leaned her head forward. As her head lay on his thigh, she imagined every unholy act she could commit in this empty stairwell. They were both at work after hours, and they were the only two left in the building besides the night watchmen.